Things to Do in Boquete
Experience… adventure and excitement
Known for its refreshing climate and pristine natural environment, you'll find the small picturesque town of Boquete nestled into a beautiful mountain valley. Flowers, coffee and citrus fruits are grown in the area, and the town's Feria de las Flores y del Cafe is a popular annual festival held each year in January. For the more adventurous at heart, Boquete is a good base for climbing 3475m (11,400ft) Volcán Barú.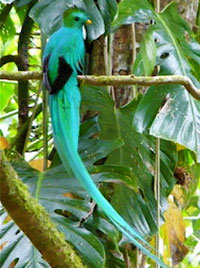 Boquete Garden Inn is just minutes to the town centre by car and our friendly staff can help arrange many sightseeing adventures in Boquete. Experience a day of hiking and bird-watching, capture the thrill of white water rafting and canopy tours, take to the trails on horseback or ATV, relax in the Caldera Hot Springs or scuba dive, snorkel or sea kayak on the Pacific coast of Panama just a hours' drive away. Or explore Boquete on your own: By car, taxi or scooter, drive the loop roads and take in the breathtaking mountain views. Stop for a drink or a delicious meal at the many great restaurants Boquete has to offer, some which are walking distance from Boquete Garden Inn!
Here are just some of the things to do in Boquete! Let us know what you're interested in and we can book activities for you at no additional cost—arranging tours is a complimentary service we provide to our guests!
Zip-line adventure: The second largest in Central America. Glide through the treetops, high above the pristine rivers and waterfalls.
Rafting: Renowned for its river and rapids, experience the beauty of Panama from this unique perspective. Customized for every level of rafter.
Horseback riding and hot springs: A great way to experience the springs!
Wildlife Expedition: Travel to remote estates and wildlife sanctuaries.
Coffee Tours: Fascinating tour where you can learn about Boquete's number one export!
Learn Spanish at Habla Ya! Learn Spanish in a dream setting place full of friendly faces and exciting adventures.
No Pre-booking required:
Boquete Hiking Trails: Enjoy a scenic drive up to Bajo Mono and hike The Lost Waterfalls, the Waterfall Trail and more! Ask for a map at our front desk.
El Explorador: Great gardens with unique handcrafted art. Has to be seen to be believed! Take the walking sticks they offer you!
This is just a sample of all the things to do in Boquete. For more information, please contact us!
Whether you are here to experience Boquete adventure and natural beauty, enjoy Boquete coffee, research Boquete real estate or find the ideal place to retire in Panama, Boquete is the perfect home base and Boquete Garden Inn is one of the most beautiful places to stay in Boquete. Experience beauty and serenity at one the most highly-acclaimed hotels in Boquete!