Our guests have spoken and we listened: We have updated our complimentary breakfast!
Boquete Garden Inn now serves a three course hot breakfast – as always, breakfast is included with your stay!
First, guests help themselves to freshly brewed, locally grown, award winning Cafe Ruiz coffee, tea and blended fruit juice (usually a combination of local pineapple, papaya and orange juice). When seated, either Leyda, Denia or Mirian will offer you a menu, with four different items to choose from. The menu changes daily. We then serve a delicious fruit plate with three different types of fruit, accompanied by a side of yogurt. By the time you are finished, your main course is ready!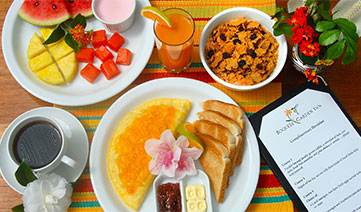 But of course, the main feature is still 'Breakfast with the Birds'. Tanagers, Honeycreepers, Saltators and more visit daily: singing, dancing, fluttering and fussing their way into your heart…and then they'll even clean up your crumbs (when they aren't too busy battling The Squirrel Family). Over the years, we have spotted over 90 species of birds at Boquete Garden Inn.